Telescopic Uprights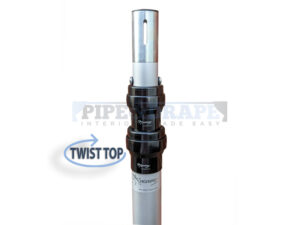 ALL NEW HEAVY-DUTY TWIST TOP!
The new easy-to-use HEAVY DUTY TWIST TOP bowl has no buttons and still offers finite adjustment. Currently available in 4 -10FT and 6 – 14FT
We have a large range of freestanding Telescopic uprights for use with our pipe and drape base plates and crossbars. These uprights vary anywhere from as little as 4ft tall up to 20ft and will enable you to drape any venue with all styles and drapes.
Combine our top-quality pipe and drape uprights with our various-size base plates and crossbars to create a system that works best for you. All of our telescopic uprights are telescopic giving a finite height adjustment. Note the starting height of each upright to ensure that you choose the best size for you and your team. Some of the telescopic uprights require small steps to access them even at the lowest height (8 – 20ft).
We offer coloured uprights in some sizes (black / silver) so that you can choose which works best for you. In addition to this, we offer black and white stretch fit upright covers that will suit all uprights up to 17ft.